Client Testimonials
Thank you for taking the time to submit your comments and photos. We always welcome your reviews, whether in praise or as constructive comments. Below are a few of the many messages we have received from our customers
Mr M Uca – Simay F – September 2020
Harika bir hafta sonu geçirdim.Yemekler,bar,hizmet,personel.Kesinlikle bu deneyimi yaşamak gerek.Tesekkurler East Med Yatching.
Mr H – UK – 11 to 18 July 2020 – Dear Lila & 16 to 26 September – Simay F
I am 85 and until this year, I have never even slept on a boat, and I approached the possibility of an East Med Yachting organised holiday with some trepidation. I had 7 days from July 11 to July 18 on Dear Lila, as "something worth trying". It was wonderful – so good that I immediately booked with East Med Yachting and had a second 10 day holiday on Simay F from September 16 to September 26. I fully confirm everything written above, and I have had the best 3 weeks of my retired life on the Aegean Sea and in the Turkish towns we visited. Many and wholehearted thanks to EMY who organised everything to perfection.
Mr & Mrs Smith – Simay F – September 2019
Magnificent experience aboard Simay F. A beautiful yacht with an
attentive, friendly and professional crew, our week off the Marmaris
coast was unforgettable with amazing levels of service, fabulous food
Superb seas and vistas and the most stunning luxury accommodation
Cannot recommend highly enough. East Med Yachting made it all so easy.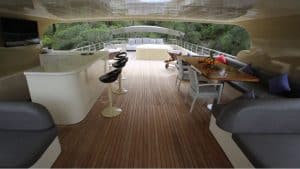 Mark Hatch – UK – 14 to 23 September 2017 – Fortuna II
The best holiday experience we have ever had! Couldn't fault the boat, the crew, the food, the service…… all fantastic. Can't wait to do it again!
Mr C – UK – October 2019
A 5 star holiday! Great experience with amazing service, everything catered for.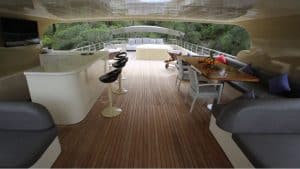 Mr T Akgun – UK – 16 to 30 September 2016 – Akana  (now White Swan)
Perfect holiday with amazing people and my best ever birthday party. Thank you so much to everyone who made this happen.
Mr L Prescott – UK – 10 to 24 September 2018 – Fortuna II
Want to highly recommend East Med Yachting, from booking made completely easy to the actual experience on our first ever charter in such a beautiful yacht! The crew were amazing and to see the true beauty of Turkey from the sea and not just the land was incredible! Would highly highly recommend east med for all you chartering needs
Mlle A Perrin – France – September 2017
Super séjours sûr ce bâteau magnifique, une équipe aux petits soins! Chambres et salles de bain de tout confort. Plein d'espace pour vivre en communauté oú même s'isoler un peu si besoin est. Un séjour innoubliable! Vraiment!
Mrs S. – UK – September 2018
Nothing was too much trouble for the crew and chef. Amazing size can cope with large numbers without getting in each other's way. We enjoyed the watersports equipment onboard and used the motor dinghy for visiting small coves. Perfect for entertaining and sunbathing. Highly recommend.